Thanks to the COVID-19 pandemic, life as we know it will never be same.
I'm not just talking about things like always bringing your mask with you, or standing farther away from people while you're waiting in line at the bank.
The pandemic is forcing us to adjust how our daily lives operate… like making us spend more and more time online.
With many lockdowns still in effect, people stuck inside are using the internet more, requiring our online networks to do some heavy lifting.
Numbers from the United Kingdom showed that broadband traffic soared by 60% compared to last year's level, while cellular traffic was up by 50%.
Remote work also became mainstream, as companies closed their offices and employees moved their workstations to their homes.
Before the COVID-19 pandemic, just 7% of workers in the U.S. were remote. Now, that number is 64%, over nine times higher.
Our home computers became our offices. And, increasingly, we rely on smartphones and cellular networks to connect with our coworkers.
That's why one of the most advanced technologies of our age – the 5G network – is even more critical. I'll explain why below… but first, let me make something clear.
Most people miscalculate how to profit from an emerging technology. They bet on the companies that will directly benefit – in this case, you might be tempted to invest in telecom giants like Verizon or AT&T to ride the 5G wave.
But the lucrative opportunities aren't in the obvious companies. Every technology needs certain resources to function – and 5G is no different.
And today, I'll tell you about one crucial ingredient that 5G needs. But first, let me show you just how profitable the 5G trend will become…
The Next Leap Forward
As a refresher, 5G is a huge upgrade from the current state-of-the-art fourth-generation (or 4G) technology.
First, 5G will trigger a huge increase in speed. It can deliver up to 10 times the speed that the most advanced 4G networks can. As video services like Netflix and YouTube become more popular with smartphone users, speed will be a critical factor.
Second, 5G will improve latency. Latency is the time required for a piece of data to reach its destination.
For example, snail mail has a higher latency than telegraph. It takes more time for the message to reach its destination.
Email has lower latency than a telegraph message. The receiver gets the message instantly. With 5G, latency can improve by a factor of 50, from 50 milliseconds to just one.
This will make interactions between connected gadgets as close to real-time as possible. That will be critical for some technologies like self-driving cars, which need to be able to exchange information with servers instantly.
All told, American telecom giants, like Verizon and AT&T, are spending about $275 billion to roll out 5G networks. Globally, spending could go as high as $1 trillion.
However, there's a catch to all this that few know about…
The Hidden Flaw
Here's the thing, though: 5G connectivity is not possible on the existing 4G cellular network.
The 5G signal operates on a higher spectrum than its predecessor. All this means is that the 5G signal uses shorter waves to transfer data than the current 4G network uses. That's what gives 5G its speed and its ability to transfer more data.
However, today it's almost impossible for a device to maintain its connection to a 5G signal. That's because 5G's shorter wavelength means its signal doesn't travel as far.
So companies are scrambling to find ways to boost 5G's coverage. This means building fixtures called base stations throughout cities to spread the 5G signal.
However, these 5G base stations are more power-hungry than the 4G versions. And we'll need more of them to cover the same area, because 5G's signal is weaker.
It's a no-brainer: More 5G units that consume more power means higher power demand from the telecom industry.
That power demand is set to skyrocket within several years. In fact, it will increase by almost six times between 2019 and 2022. The industry will consume about 16 gigawatt hours (GWh) of energy, up from just 2.7 GWh last year.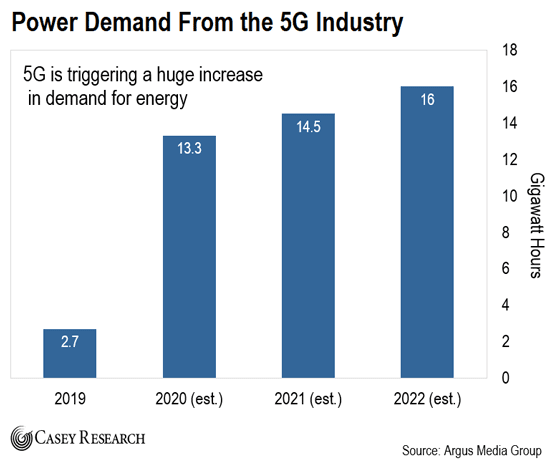 Here's the most important part: These new base stations will use a new kind of energy source called lithium-iron phosphate (LFP) batteries.
Take it from Casey Research's resident commodities expert, David Forest:
Lithium will be one of the metals underpinning the buildout of 5G wireless networks. You see, 5G towers need more power than 4G towers to get the signal out and to keep the tower running.

The old lead-acid batteries that 4G towers run on don't work. You need high-powered lithium batteries to keep a 5G tower running.
Dave knows what he's talking about. A handful of his miner recommendations are up triple digits in less than a year – including one that's soared 825%.
But Dave's right that 5G needs lithium in order for its base stations to function and its network to grow.
And countries like China are way ahead of the U.S. on this…
China's Leading the Way
The Chinese government is pouring money into its communications infrastructure, including 5G.
It has committed over 15 billion yuan (~$2 billion) to infrastructure projects in the tech and transportation industries, in the first two months of 2020 alone, according to Argus.
In total, China plans to spend at least $400 billion on 5G.
In addition to the government money, China's telecom companies will invest over $160 billion in 5G networks.
Part of this massive investment will support the lithium industry. China is quick at adopting new technology, and when it comes to 5G equipment, lithium-iron phosphate batteries are the future.
We're already seeing this in action. Two Chinese carriers have shown interest in buying over 2 GWh of energy powered by these batteries.
With lithium being a big part of the new battery technology used in 5G stations, this metal's price will rise as 5G takes off.
If you want some easy exposure, take a look at the Global X Lithium & Battery Tech ETF (LIT). It holds a number of lithium miners and battery producers. As lithium demand grows, this ETF should climb higher.
You should also consider this China-based lithium producer: Ganfeng Lithium (GNENF). It's the only primary lithium producer of significant size trading in the U.S. The company's market capitalization is about $7.6 billion.
Be careful, however, as Ganfeng's shares aren't very liquid. As always, make sure your position sizes are appropriate, and only invest what you can afford to lose.
Good investing,
Andrey Dashkov
Analyst, Casey Research