As the market rallies from its September lows, one game-changing company has been struggling…
This important company is already playing a big role in the way we treat disease, and more importantly, raising awareness of what's possible.
Crispr Therapeutics (CRSP) will only continue to pioneer healthcare as we know it because it has the leadership, brainpower, and cash to do so.
But when trend-setting companies like this become famous, that fame brings unrealistic expectations and inflated stock prices…
That's because fame also means chat room traders, like those on Reddit, take notice and start pushing paper around… with no knowledge of anything but a stock chart and a bullish YouTube video.
But online buzz seems to get the loudest right when it's time to go the other way. Savvy investors can recognize the turning of the tide, and profit from the hype. Meanwhile, the rest of the market meanders around… happy to make a meager historical average of 7% per year.
Through no fault of its own, CRSP has become a victim of the hype lifecycle… falling 50% since its peak back in January.
As a reminder, here's a recap of the hype lifecycle:
A company or sector is trading under the radar
It explodes until valuations become unrealistic
There's mass euphoria and price overreactions to any snippet of good news
Finally, the eventual bust
But the crescendo of the sell-off may have taken place this Wednesday, as all the signs that we're at the bottom of this cycle are there.
And with that, investors now have the chance to own a special company, and profit at least 50%… probably much more than that.
Right now, the chat rooms are the loudest they have ever been for CRSP. Twitter mentions have exploded to all-time highs while prices are at their lowest.
Just take a look at the chart below…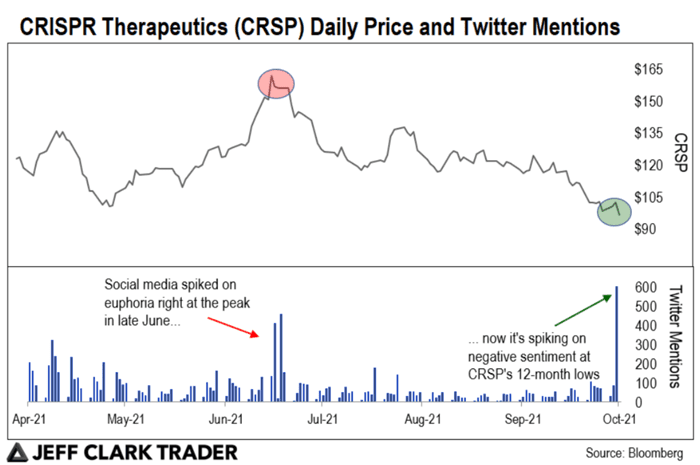 The top of this chart shows the price of Crispr, while the bottom shows the number of related Tweets.
Time and again spikes in social media mentions coincide with the end of a trend… as they did back in June.
After results of its most recent Phase 1 trial data, negative sentiment sent tweets spiking Wednesday to all-time highs.
That sent CRSP down to $92 per share, 10% below its prior close… but investors starting buying right at the open on Wednesday, sending the stock back to the same levels before the news broke out.
Prices have rejected the outpouring of negativity over its recent trial data… which tells me long-term investors are stepping in.
I doubt any of the chat room traders have pored over the company's reported results of its Phase 1 trials…
Or, maybe they know something the Wall Street analysts covering the stock don't know…
But regular Market Minute readers know that the range of Wall Street price estimates has served as a great tool to help traders get in at the right price. Individually, their price targets are meaningless, but taken together they offer reliable insight.
Take a look at the chart below…
Once again – as was the case with other recommendations we made like Plug Power (PLUG) and Tronox (TROX) – estimates are a pretty good roadmap of knowing when things get too expensive, and when it gets head-scratchingly cheap like it is now.
Going back to CRSP, it actually fell below this range with the recent news, but it won't be there for long.
I've been waiting for the right opportunity to invest into this company since late 2020, but held back because I knew where we were in the hype lifecycle…
Headlines were driving prices – with Cathie Wood leading the charge in her ARK Genomic Revolution ETF (ARKG).
It's a far cry from the institutional investors that hold their trade ideas close to the chest.
Yet, I knew it would only be a matter of time until valuations got so inflated with no more chat room traders left to buy – at which point prices had nowhere to go but down.
And, that's what happened, but the hype lifecycle is now complete.
The market has now become overly bearish on a game-changing company…
And I couldn't be more bullish.
Eric Shamilov,
Contributing editor, Market Minute