Abraham Lincoln was a visionary. He's still the only American president with a patent.
And in 1861, he used a newfound technology to change the world.
About 150 years before cellphones went mainstream, Lincoln recognized the power of near-instant communication.
Why? Because when the Civil War broke out, the Confederates seized the telegraph lines surrounding Washington, D.C. Lincoln and Secretary of War Simon Cameron knew that was a problem. They saw how important communication would be to winning the war.
And although Samuel Morse pioneered the telegraph system in the U.S. in 1844, it wasn't until Lincoln used it to help win the Civil War that it caught on…
Before the Civil War, U.S. government employees had to wait in line to send a telegram like everyone else. If they wanted to send a message, they went to the Washington D.C. central telegraph office.
It was inefficient.
So when the war broke out, Lincoln asked Thomas A. Scott, president of the Pennsylvania Railroad, for help. Scott brought in his superintendent, Andrew Carnegie, to assist.
That led to the creation of the U.S. Military Telegraph Corps. Its job was to lay more than 15,000 miles of telegraph wire across battlefields.

U.S. Military Telegraph battery wagon
It was dangerous work.
The Union Army fought and won on the front lines, but communication played a key role in their victory. Without the telegraph, things may have turned out differently.
None of this was possible without the communications infrastructure built by the U.S. Military Telegraph Corps.
Small Cells, Big Data
In 1861, Abraham Lincoln saw how better, faster communication could change the world.
And today, we're on the cusp of a massive technology boom that will transform not just the way we communicate, but the way we live.
Groundbreaking technologies that were once in the realm of science fiction will soon become reality: self-driving cars… smart homes… life-saving remote surgeries…
And they all rely on the 5G network to connect them.
But right now, we don't have the bandwidth to power 5G networks. That's because 5G operates on a different frequency. Existing networks can't support the data needed to keep 5G devices online.
In order for the 5G network rollout to happen, we need new infrastructure. Without it, 5G is essentially useless.
Plus, thanks to the coronavirus, technology is continuing to progress at an even faster pace. We're using more data, streaming more videos, sending more mobile messages, and having more virtual meetings.
According to Ericcson Mobile Data Traffic Outlook, people in North America will consume 45 gigabytes of data per month on each smartphone by 2025. That's a 31% compound rate. With more people working from home, we wouldn't be surprised to see that figure increase.
The only way to support that explosion of data consumption is through increased infrastructure.
That's where small cells come in.
These Funny Poles Will Change the World
If you've never heard of small cells before, you're not alone. They're typically hiding in plain sight. My lead analyst John Pangere saw these firsthand in Denver posing as decorative poles…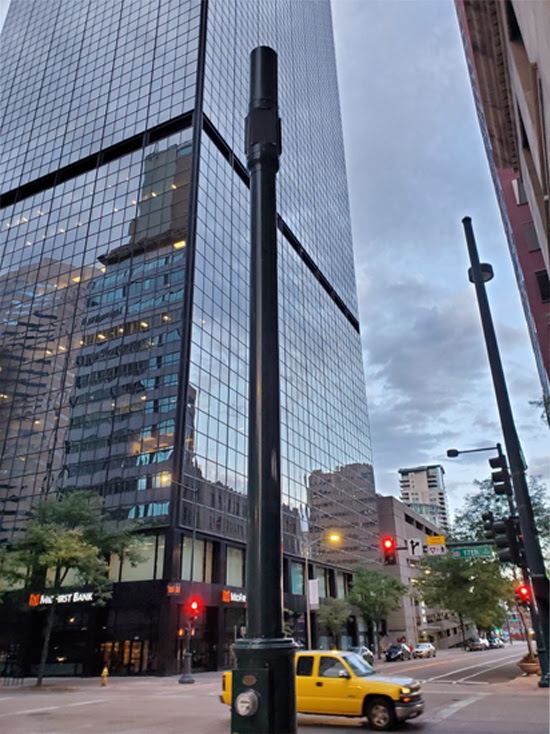 Denver small cell tower
Small cells are necessary in densely packed areas. They give wireless providers the ability to boost wireless speeds. Demanding more data from a single network naturally slows its speed. Small cells help partially solve that problem.
And S&P Global Markets expects we'll need 800,000 new small cells by 2026.
According to Allied Market Research, 5G infrastructure spending is set to grow at an annual compound rate of 67.1%, reaching $47.8 billion by 2027.
That's why we're looking to companies working behind the scenes on this type of infrastructure – they're literally powering the 5G network buildout.
While major communications companies like Verizon and AT&T make all the headlines, it's the names you don't hear about that will have the greatest impact on 5G.
Building out a new infrastructure is costly. Billions of dollars are up for grabs.
And we don't want to speculate on the 5G network with major service providers. That's like trying to mine gold during a gold rush. Most people never find gold. It never works out how you hope.
We'd do much better speculating in the "picks-and-shovels" of the network buildout. Because without the right equipment, we'll never be able to reach the network's potential.
A good place to start is the VanEck Vectors Semiconductor ETF (SMH). It holds a handful of companies tied to the semiconductor sector, which is a key component of many 5G devices and the infrastructure behind them. They should offer some solid returns as the sector takes off.
But if you're looking for more upside, I just covered some pick-and-shovel companies in my latest issue of Strategic Investor that I believe will take off as the 5G rollout picks up steam.
They're working to build and power small cell towers – along with other materials – that will get the network up and running… and keep it online.
And I believe one of them has incredible upside potential as this massive trend continues to unfold.
If you're not yet a subscriber, and want to position yourself in the top companies powering the 5G revolution – and the overall tech boom – go here.
Keep walking the path,
David Forest
Editor, Strategic Investor