The dollar is setting up for a rally.
That's not the popular opinion, of course… Just about every discussion of the dollar on any of the financial news networks is universally bearish. Most folks are looking for the buck to break down.
You can't blame them. After all, the Fed's insistence on keeping short-term interest rates near zero – combined with our government's insistence on dropping dollars from the sky – are destined to devalue our currency in the long term.
The greenback has already lost 10% of its value over the past year.
And, it's almost certainly headed lower over the next year…
But, for the next few weeks, the setup favors a rally.
Take a look at this daily chart of the U.S. Dollar (USD)…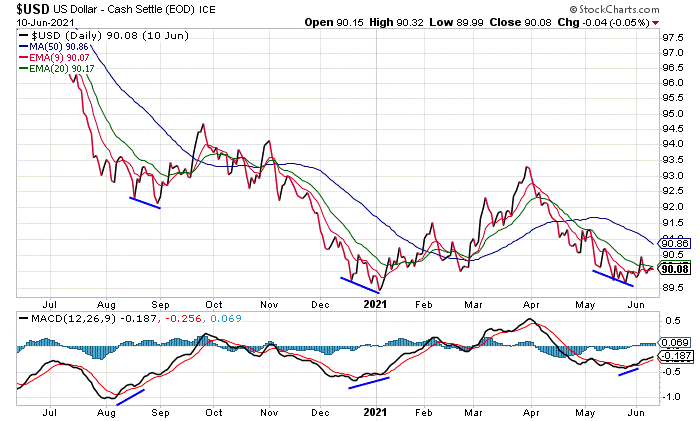 The current setup looks quite similar to the last two times the dollar put on a counter-trend bounce.
Last summer, as the Invesco DB U.S. Dollar Index Fund (UUP) was making lower lows, the various technical indicators were making higher lows. This sort of positive divergence is often an early warning sign of an impending rally.
UUP bounced about 3% in just one month last September.
The same story played out in December as UUP hit its lowest level of the year. But, the technical indicators were once again showing positive divergence. Here, again, UUP rallied about 3% in one month.
Of course, a 3% monthly gain is no big deal compared to the 10% daily moves in various cryptocurrencies, or the 50% weekly moves in a handful of so-called "meme" stocks.
For the world's reserve currency, though, a 3% monthly move is huge. And, it's enough to stall the rallies of the traditional counter-dollar assets like gold, silver, and other commodities.
We're not talking about a long-term trend change here. Our government and Federal Reserve policies all but assure the continued destruction of the U.S. dollar over time.
In the short term, though, the buck looks poised to bounce.
Best regards and good trading,
Jeff Clark
Editor, Market Minute