The financial sector is gearing up for a rally.
Bank stocks have been leading the market lower over the past month. The KBW Bank Index (BKX) traded near 145 in early February.
Last week, it hit 120. That's a 17% drop in over one month. It's caused a lot of pain among investors who thought the Fed's shift to raise interest rates was good for the banks.
But that pain is about to end…
The bullish percent index for the financial sector (BPFINA) just turned higher from oversold conditions. It's on the verge of triggering a buy signal for the bank stocks.
Look at this chart of the BPFINA…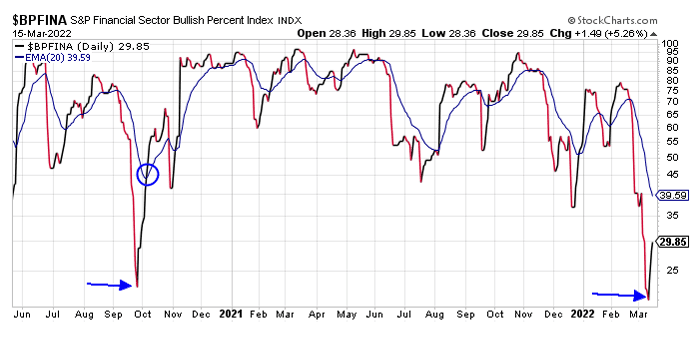 Long-time readers know that a bullish percent index (BPI) shows the percentage of stocks in a sector that are trading in bullish technical patterns. It's an easy way to measure overbought and oversold conditions for a sector.
Typically, a reading above 80 – meaning 80% of the stocks are trading in bullish technical patterns – indicates a sector is overbought. Readings below 30 indicate oversold conditions.
Buy and sell signals occur when a BPI reaches extreme levels and then reverses.
For example, when a BPI rallies above 80 and then turns lower, it generates a sell signal. When a BPI dips below 30 and then turns higher, that's usually time to buy. At least… those are the general rules.
But each sector trades a bit differently. And, in the case of the financials, the 20-day exponential moving average (EMA – blue line) plays a key role in this chart.
On the chart above, the BPFINA rallied to 80 in early February. Then, it turned lower and fell below the 20-day EMA. That action generated a sell signal.
That proved to be an excellent time to sell the bank stocks.
You can also see that the financial sector got quite oversold last week when the BPFINA fell below 30. It has since turned higher. And, when it climbs above its 20-day EMA, it'll trigger a new buy signal.
The last time we saw similar conditions was back in October 2020 (blue circle on the chart above). That buy signal kicked off a three-month rally that boosted the bank index 38%.
Traders should pay attention to this chart, because when the BPFINA climbs above its 20-day EMA, bank stocks will be ready to rally.
Best regards and good trading,
Jeff Clark
Editor, Market Minute