"Buy the best stocks – then, pretend you're dead."
I recently wrote a report for a close friend who's also a multibillion-dollar asset manager.
He wanted to know the best way for his clients to make money in stocks over the long term. And that's what I told him in the report.
So today, I'll show you why this "zombie" trading strategy is one of the most profitable ways for ordinary investors to get rich from the stock market…
The Zombie Strategy
The premise of the zombie strategy is simple: Buy elite companies and don't touch them. You'll likely wake up very rich decades from now.
Michaela Pagel is an assistant professor of finance and economics at Columbia Business School. And her research found that investors following this method generally perform better…
History has shown us that the stock market is a relatively safe bet over the long term… because the stock market has done nothing but grow over the long term.
Investors would be wise to keep this in mind. Those who check their portfolios too often, and are driven by the daily fluctuations in the market, are more prone to make poor decisions that ruin their long-term finances.
And the data is indisputable: Over the last century, the market has continued to climb higher: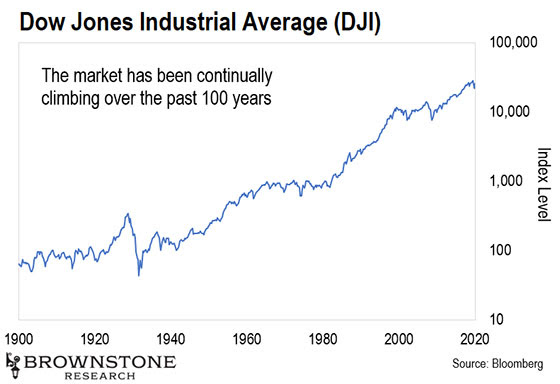 But here's the thing…
A 2017 study by an Arizona State University finance professor found that – over the past 100 years – just 4% of stocks have accounted for nearly all the profits of the market each year.
I call these stocks outliers. These companies are unique in their business sector, grow sales and earnings at high rates, and have big profit margins.
Outliers are where the Big Money is hiding out. So if you're not targeting them, you're basically wasting your time as an investor.
But if you're serious about making money in the markets, outliers are the stocks you want to hold for the long term.
How to Identify Outliers
Regular readers know I spent nearly two decades on Wall Street, at prestigious firms like Cantor Fitzgerald, trading more than $1 billion worth of stock for major clients.
But I walked away from it all and used my experience to develop my own stock-picking system. I spent half a dozen years and hundreds of thousands of dollars to make sure it's highly accurate, comprehensive, and effective.
My system scans nearly 5,500 stocks every day, looking for the best of the best that big institutions are likely buying by the truckload. I use 80 complex algorithms to score and rank each one of them for strength across 29 factors.
It's a very powerful system… Since 1990, on average, it's identified half of the top 5% of stocks in the S&P 500 each year – and it even identified the No. 1 stock on the S&P 500 from 2014 to 2019.
The core of my system is in its Big Money buy and sell signals. These are the footprints I believe big-money players leave when trying to quietly get in and out of a stock. They look like this…
Note that the gray section of the chart is backtested data. For these signals, I used my system's parameters to identify times it would've flagged buy signals in the past.
Regardless, if you'd bought NVIDIA when my system first flagged it on June 2, 2000, and held it until today, you'd be up 5,297%.
And even if we cut out the backtested data and you bought NVIDIA when my live system first flagged it, you'd still be up 2,599%.
But we don't need to rely on just these buy signals to show the power of my system. Subscribers of my investment advisory, Outlier Investor, are sitting on gains of 220%, 331%, and 507% from using this same approach.
Patience and Process
I once asked a multibillion-dollar hedge fund manager how he could stand pat, waiting for the right price on a stock he wanted. He simply replied, "Patience and process."
What he meant is: You don't need to spend all your time and energy constantly rebalancing your portfolio.
You just need to find the outliers (process) and hold them (patience). Years of data and research back this up.
So if you want to get rich in the stock market, find the best companies that the smart money is likely buying up. Then, pretend you're dead.
When you awaken, you'll be sitting on a fortune.
Stay bullish!
Jason Bodner
Editor, Outlier Investor