In 2014, Florida made cannabis legal for medical use. The state now has 258 medical cannabis dispensaries serving 367,592 Floridians.
And each day last month, another 557 Floridians, on average, became new medical cannabis cardholders.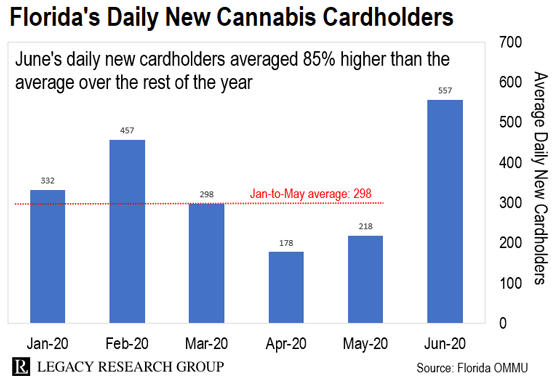 That's up 85% from the January-to-May average (the red dotted line on the chart).
Hotels, car-hire companies, and airlines may be struggling in the Age of COVID-19. But as you'll see in today's dispatch, the cannabis industry is proving to be a safe haven for investors during the pandemic.
That means… after a punishing bear market last year… 2020 is setting up to be the comeback year for cannabis.
Before we get to that, it's time to reexamine a common stereotype…
If you're a baby boomer, you may associate cannabis – or "pot" – with hippies and dropouts.
The modern version of this stereotype is the "stoner" playing video games in his parents' basement.
But cannabis also has revolutionary potential as a medicine.
I (Chris) learned this firsthand in February.
I was at Europe's leading medical cannabis conference, Cannabis Europa, in Madrid, Spain. And as I wrote to you about from Madrid, I heard from a woman, Carola Pérez, who used cannabis to treat chronic pain.
Carola fractured her tailbone when she was 10 years old. Since then, she's been in near constant pain. For most of her life, she's spent about 15 hours a day lying flat on her back in agony on the floor. Even the tiniest move sends stabbing jolts of pain through her body.
Despite the opioid-based painkillers doctors prescribed her, cannabis has been the only effective treatment for Carola's pain.
Studies show that cannabinoids – the chemical compounds found in cannabis – can also help treat cancer, glaucoma, and Parkinson's.
Cannabis can also help with stress and anxiety…
The results are just starting to come in… but they're promising.
One study from Washington State University found that medical cannabis users reported a 58% drop in anxiety and stress 20 minutes after a single use.
Another study out of Vanderbilt University found that cannabis activated a receptor in the brain that protects against stress.
Cannabinoid (CBD) use is also helping veterans treat post-traumatic stress disorder (PTSD).
A Massachusetts study last year surveyed 565 veterans about cannabis use. It found that 9 out of 10 of them reported using cannabis.
And a majority of them felt cannabis helped pain, sleep problems, and anxiety attacks.
This is also good news for shareholders in legal cannabis companies…
If you're like most folks, you've felt your stress levels rising during the pandemic.
And that's perfectly natural…
Roughly 141 million Americans live in states where virus-induced restrictions are tightening once again. Schools are still shut down.
And over the past week, six states have seen coronavirus deaths rise. They've also seen new records for the number of new infections (without an increase in testing capacity).
Florida is one of the worst-hit states. So it's no wonder folks are queuing up for medical cannabis cards there.
Dr. Michelle Weiner is a faculty member at Florida International University. She researches how cannabis can replace opioids in treating chronic pain patients.
Here's how she put it to a local Miami newspaper, the Miami New Times…
[People] are […] more anxious about the unknown and are using cannabis to calm themselves while they homeschool their kids or learn how to cope with potential decreases in wages from hours lost at work.
That's making 2020 the comeback year for cannabis…
If you own cannabis stocks in your portfolio, that may sound surprising.
Last year was no picnic for legal cannabis bulls.
It's all in this chart of the Horizons Marijuana Life Sciences ETF (HMLSF).
It's an exchange-traded fund (ETF) that tracks the performance of 54 leading global cannabis companies.
As you can see, it plunged 80% between March 2019 and March 2020.
That's on par with the dot-com wipeout at the turn of the millennium. It took the tech-heavy Nasdaq-100 Index down as much as 83%.
This followed reports of reckless spending by cannabis companies… overhyped rollouts of new licensing deals… and the so-called vaping crisis.
But as the chart above shows, on March 18 – five days after President Trump declared a national emergency over the coronavirus – HMLSF bottomed.
Since then, the index is up 45%.
Milk, eggs, cannabis…
As you know, the pandemic shut down a range of businesses.
Everything from gyms… to beauty salons… to restaurants, bars, hotels, and cruise ships had to turn customers away.
But 30 states – including Florida, California, and Illinois – designated cannabis businesses as "essential."
They joined grocery stores, pharmacies, and gas stations as one of the few business types local authorities allowed to remain open during lockdowns.
And business has been booming…
As we showed you in May, U.S. cannabis companies had a stellar first quarter this year.
Multistate operator Green Thumb Industries (GTBIF) became the first to reach $100 million in sales over a single quarter.
This Illinois-based company makes and distributes a range of cannabis products in the U.S. These include edibles, cannabis vape liquids, CBD oil, and cosmetics.
And Curaleaf (CURLF) and Trulieve (TCNNF) came close, each taking in $96 million.
In March, California saw a 54% jump in cannabis sales compared with the same month a year ago.
Michigan says it's tracked a 25% jump in sales… after the governor's stay-at-home order in late March.
And in Florida, weekly sales for the first quarter averaged 58% higher compared with that of the previous year.
The boom in demand shows no sign of letting up…
Take Illinois. It reported a record $76 million of cannabis sales in May.
That's higher than in January, right after Illinois became the eleventh U.S. state to legalize cannabis for medical and recreational use.
Think about that for a moment…
Excitement over legal cannabis was at fever pitch at the start of the year. Chicago dispensaries reported lines stretching across city blocks.
But May shattered even those sales records.
Or take Oklahoma. It's had medical cannabis laws on the books since 2018. And May was also a record-breaking month for cannabis sales there.
Oklahomans spent $74 million on cannabis in May. That's 20% more than in April. And it's 50% more than in March.
Arizona, Washington, and Oregon also broke monthly records in May.
June is setting up to be another record-breaking month…
Most states report only monthly sales figures. And they haven't yet released figures for June.
But Florida reports weekly sales data. So we can use that to see June sales there.
As you can see from this next chart, sales in Florida set a new record last month.
Dispensaries there sold 19,688 ounces of cannabis. That's up 30% compared with sales in March.
As I said, figures from other states aren't available yet for June. But if they show anything like Florida's, sales at leading U.S. cannabis companies in other states could shoot about 30% higher in the April-to-June quarter.
To put that in perspective, the average S&P 500 company has signaled a 12% drop over the same time.
Teeka Tiwari readers won't be surprised by how this is playing out…
As regular readers know, Teeka is bullish on medical cannabis.
He's been recommending early-stage cannabis companies to members of our elite Palm Beach Venture advisory.
And back in February… when legal cannabis stocks were trading near all-time lows… he warned that they were caught in a "fear-fantasy" cycle.
As he put it in the February 11 Daily Cut dispatch…
In early-stage megatrends like legal cannabis, the market is full of cycles of fear and fantasy. Each new flight of fantasy takes prices to new highs… and each bout of fear ends in higher lows.

Last year, the overall cannabis market got hit hard with a boatload of negative headlines. Mainstream investors panicked and sold their positions… which crushed prices.

But just like when investor sentiment gets out of whack with reality on the upside, the same can happen on the downside. And that's exactly what's happening now.

When sentiment finally catches up to the reality of what's happening in the industry, we'll see a new fantasy cycle that'll take this sector to new highs. Companies trading near their bottoms could soar five, 10, or even 100 times or more when investor sentiment flips.
Just over a month later, the cannabis market bottomed. And a new cycle began.
If you've held on to your cannabis stocks, well done…
Last year certainly tested your mettle.
But as you can see, that bear market is now in the rearview mirror. And a new bull market has begun.
That means, if you haven't already, now is a great time to add some exposure to this market megatrend to your portfolio.
One place to start is the Horizons Marijuana Life Sciences ETF (HMLSF). It will give you broad exposure to the bull market ahead.
Like any early-stage industry, cannabis will be volatile for the time being.
So make sure to never bet the farm on these stocks. And always follow a sensible asset allocation plan.
Good investing,
Chris Lowe
Editor, The Daily Cut