It's going to be a Happy New Year for gold, and a tough month for bitcoin.
That may seem like an odd statement at first. After all, gold and bitcoin are supposed to serve the same purpose – to be a store of value against the collapse of fiat currencies.
So, you'd think that they'd move in the same direction most of the time… but they don't.
Gold and bitcoin often move inversely to each other – when one rallies the other falls, and vice versa. And based on the following chart, it looks like gold is gearing up for a rally while bitcoin is poised to fall.
Let's take a look at this ratio chart comparing the action in gold to bitcoin…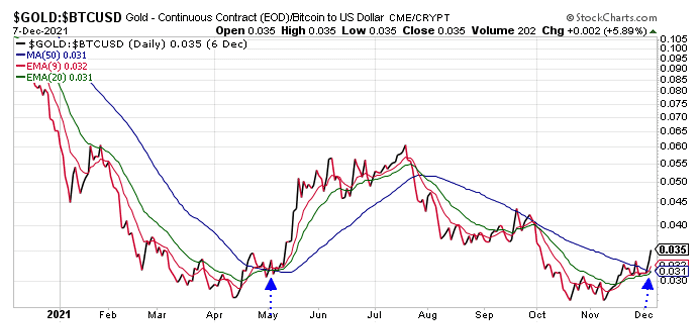 When this chart is moving higher, it means gold is performing better than bitcoin. Whenever this chart is falling, bitcoin is outperforming gold.
From mid-July until early November, this chart was falling. During that same time, the price of bitcoin gained more than 100%, and gold lost about 4%.
Notice though, what's happened over the past month. This ratio chart has been quietly moving higher. The ratio has popped above all of its various moving averages – which is bullish.
And, the moving averages have flipped to a bullish formation – with the short term 9- and 20-day exponential moving averages (EMA – red and green lines) crossing above the 50-day moving average (MA – blue line).
The last time we had a similar setup was back in May.
The first chart below shows what happened to gold (blue arrow), and the second shows how bitcoin did back then (red arrow)…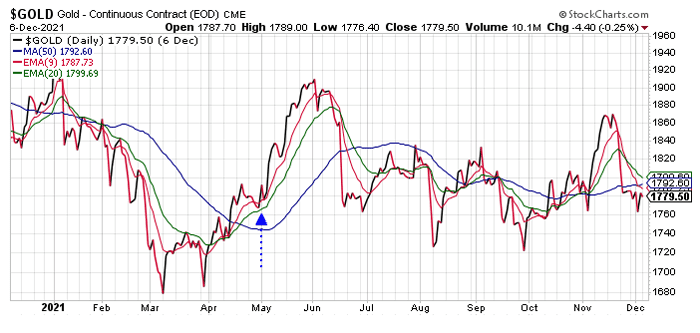 As you can see, May was a wonderful month for gold. The shiny, yellow metal gained nearly 7%.
Meanwhile, bitcoin got crushed. The "King of Crypto" lost 45% of its value in May.
And now, as we head into the holidays and the prospects of a brand-new year, the ratio chart is rallying again. If the action plays out similar to what we saw in May, it should be a very Merry Christmas for gold.
And, if you're looking to buy bitcoin, then you may be better off waiting until the new year.
Best regards and good trading,
Jeff Clark,
Editor Market Minute