If you've kept up with us this month, you'll know we've followed a theme…
…That September is the worst month for the stock market.
And so far, it has played true to form.
The S&P 500 is down 2.8% for the month.
And the month isn't over yet.
Could it get worse?
We'll put our neck on the line here…
Our bet is the worst has passed.
We'll explain why below…
If this is your first time reading the Dispatch, welcome. If you've been here before, welcome back.
At the Dispatch we have two goals:
To introduce you to the most important investing themes of the day, and
To show you how to profit from them.
We do this by showcasing ideas from our in-house investing experts: Dave Forest and Nick Giambruno. And from the founder of our business, Doug Casey.
Today, we'll update you on this month's market action so far, and we'll explain why it's the perfect time to buy.
These Are Among the Best Months of the Year
As we've explained over the past few weeks, historically, September is the worst month of the year for stocks.
It's no contest.
The reasons for September's poor performance? We can only guess. But in all honesty, we're not sure it matters. The data tells us that September is a bad month, so we take notice.
But here's the thing. The data also tells us that the last three months of the year are great months for the stock market.
According to Moneychimp.com, which analyzes S&P 500 data going back to 1950, the last three months of the year have registered the following average returns:
October: 0.62%
November: 1.53%
December: 1.39%
That compares to the September average of -0.62%.
Oh, and as a bonus, on average, January returns 0.97%.
You see? While the market has appeared to be bad over the past three weeks, the next four months are among the best of any year.
It's why, despite all the news headlines… and the big market swings… we've told you to stick with stocks. We've even suggested you strategically buy stocks or add to your positions.
We've said that because while investors can panic when the headlines look bad, most often it isn't that bad. Besides, right now (and for the past 13 years), there's another factor that's helping support stocks…
The Federal Reserve.
The Fed Boosts Stocks Again
Our view on the Fed is that while it wants asset prices to go up and stay up, it doesn't want them going up in a straight line.
The Fed is happy to see stocks rise… take a break… fall a bit… and then resume their upward climb… before taking another break.
And so on.
It's all part of the manipulation (which includes making you think it's not manipulating the market!) The following report from Yahoo Finance shows that:
The famed 'Fed put' is alive and well.

The Federal Reserve isn't entirely asleep at the switch on soaring prices, and doesn't appear to be committing a policy error – at least not yet.

Those were the main takeaways from Wall Street's reaction to the Fed's policy decision, which sent a market addled by Evergrande on a tear. As expected, Fed Chairman Jerome Powell hinted that the long-awaited, gradual pullback in the pace of its stimulative bond-buying was nigh.

Investors rejoiced, mollified by the Fed's reassurance that it would not suddenly snatch away the punch bowl that's helped keep benchmarks perched near record highs in the face of COVID-19. Thus, did the vaunted "Fed Put" remain intact, with asset prices jumping in appreciation.
Remember, we're not saying we agree with what the Fed does (we don't). Like most of Wall Street, we know the Fed's gameplan. It's to manipulate asset prices higher. It does that by keeping interest rates low and encouraging inflation.
But knowing what the Fed is doing is one thing… knowing how to take advantage of it is another…
How to Play the Year-End Rally
The big mistake here is to look for stocks that are trading at 52-week lows… or even stocks that are lower in September than they were in July or August.
That's not the deal.
This isn't about buying beaten-down stocks. It's not about value investing, or "turn-around" plays. This is about taking advantage of a market timing event.
By that, we mean we know the market behaves this way in September (the data covering 72 years tells us so), so we try to use that for our advantage.
A good example is one of Dave Forest's gold plays. We can't reveal the name of the stock because it's still an open position in his premium Strategic Trader service.
The stock price is up 30% in the past six months. But in September, like many stocks, it pulled back from a recent high. Now, it's on the way back up again.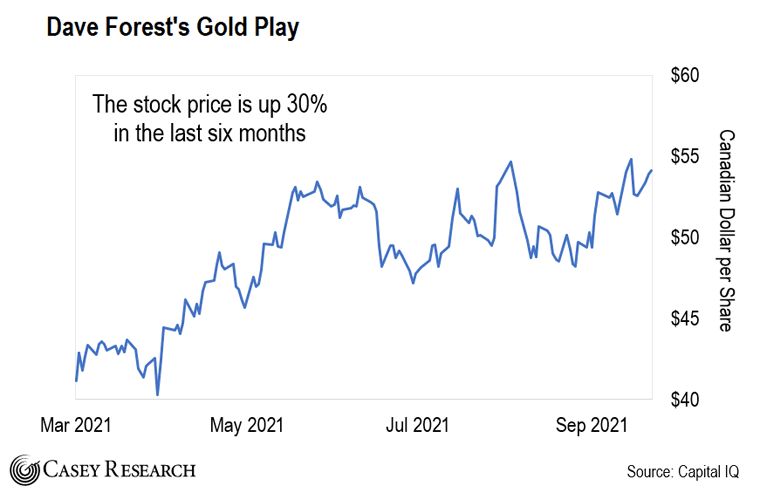 Would buying it today mean buying at the low? No. But as you can see from the chart, it's starting to move higher. It has had its ups and downs in September. But this is the kind of stock that Dave likes.
What's more, as Dave told us on a phone call recently… thanks to the relatively high gold price, gold stocks are generating a lot of cash. This has resulted in increased dividend payouts.
In fact, the stock we've just referred to here is due to go ex-dividend in the next few days. That means anyone who buys the stock up to the day before the ex-dividend date will qualify for that dividend.
And at a dividend yield of 1.8%, that's more than you'll get from the S&P 500. With interest rates staying low… and inflation continuing to run high… that can only mean good news for gold and gold stocks over the long run.
If you prefer something with low risk, you could check out the VanEck Vectors Gold Miners ETF (GDX). It pays a dividend, at a yield of 0.56%.
ETFs can be a good way to play a particular sector, although we always prefer investing directly in individual stocks. Either way, Dave likes gold right here, and based on how history tells us the market will perform through January next year, now is the perfect time to buy.
Cheers,
Kris Sayce
Editor, Casey Daily Dispatch