Gold stocks may be the only cheap sector left in the stock market.
All of last year's other lagging sectors have played catch up. Energy stocks are higher. Bank stocks are higher. Heck, even brick-and-mortar retailers have risen from the ashes.
The gold sector is the only bargain left.
The gold sector is cheap – probably as cheap as it's been in the past decade. The major gold producers are in the best financial shape they've ever been… They're not buried in debt. Their balance sheets are strong. And, the sector recorded record-high margins – the difference between what it costs to mine the gold and the selling price – in 2020.
The sector is also historically cheap compared to the S&P 500.
The average gold stock holding in the VanEck Vectors Gold Miners ETF (GDX) trades at 20 times earnings, two times book value, and less than 10 times cash flow. Compare that to the average stock in the S&P which trades for 28 times earnings, four times book value, and more than 16 times cash flow.
I've been following gold stocks for more than 30 years, and I don't recall ever seeing the sector trade at such a large valuation discount to the broad stock market. At some point, this condition is going to lead to a large "catch-up" rally for the gold sector.
Admittedly, I've been saying this for the past few months. And, the Great Gold Stock Rally of 2021 remains elusive.
But, the GDX chart sure looks bullish to me. Take a look…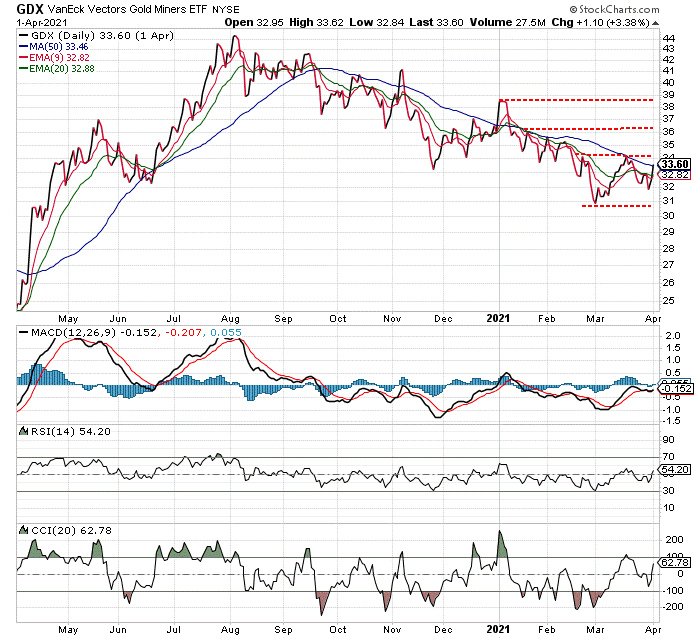 GDX bottomed in early March at about $30.75 per share. It then rallied all the way back up to its 50-day moving average line (MA – the blue line). That "high" equaled the same high level it reached on a bounce in late February.
That's significant.
You see, up until this point, every bounce attempt in 2021 has failed at a lower high. By rallying up to its previous high, GDX gave us the first indication that the trend may be changing.
At that point, though, GDX was bumping into its 50-day MA. That's an important resistance level. And, it's an obvious spot at which to start a pullback.
That pullback ended last Tuesday with GDX forming a higher low on the chart near $32 per share. This is the first higher low of the year for GDX. And, it increases the odds that a new gold stock rally is underway.
GDX is once again bumping into the resistance of its 50-day moving average line. If it can break above this resistance, and make a higher high above $34 per share, then the sector should be off and running.
Gold stocks have a long way to go to play catch up with the rest of the stock market. And, it looks like that game is starting now.
Best regards and good trading,
Jeff Clark
Editor, Market Minute