True… The metal only gained $35 an ounce. It just made it back up to where it was two months ago. And, it's still down about 7% for the year so far.
But, for the first time in several months, gold outpaced the gains in the S&P 500. And, it beat out the gains in bitcoin as well.
That's important because, for the past several months, gold has underperformed the stock market and the cryptocurrency market. Last week's outperformance likely signals that gold is finally ready to play "catch up."
Take a look at this chart…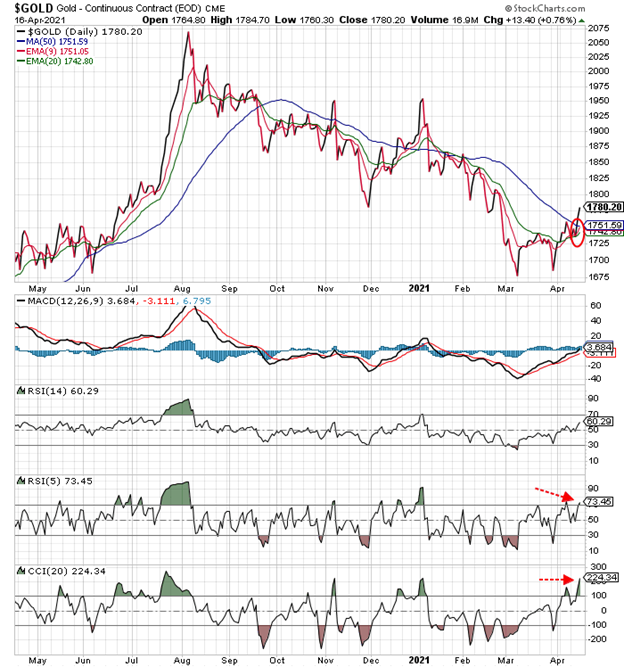 Last week's rally pushed gold above all of its various moving average lines. Those moving averages used to be resistance on any rally attempts. Now, they'll serve as support on any declines.
More importantly, the red shorter-term 9-day, and green 20-day, exponential moving averages (EMA) appear ready to cross above the blue longer-term 50-day moving average (MA).
This sort of "bullish cross" often marks the start of an intermediate-term rally phase. Gold just needs to hold above its 50-day MA – at about $1750 – for a few days to do the trick.
A couple of the technical indicators at the bottom of the chart are in overbought territory.
The RSI and the CCI momentum indicators are at levels that've often preceded a quick decline in the price of gold. So, it wouldn't surprise me at all to see gold dip a bit early this week – if only to relieve those overbought conditions.
But, any decline in gold is likely to find support near the cluster of moving averages at about $1750. Traders should use any drop towards that level as a chance to get aggressive on the long side.
Gold has started its "catch-up" rally. The price is likely to be much higher in the weeks and months ahead.
Best regards and good trading,
Jeff Clark
Editor, Market Minute