Investors are finally waking up to gold.
And it's easy to see why. After years in the doldrums, gold is making headlines. It's up about 24% so far this year, and it is nearing its all-time high of around $1,900 an ounce.
But mainstream investors are still missing the bigger story. Although gold is a great tool to protect your wealth, it's tough to build a fortune just by owning gold.
However, gold miners are a great way to take advantage of a historic rise in gold – and they can deliver much larger profits than gold itself.
In fact, they're crushing it this year. So far in 2020, the VanEck Vectors Gold Miners ETF (GDX), an exchange-traded fund (ETF) that tracks a basket of gold mining companies, has soared by 43%. In the meantime, the S&P 500 is up just 1%.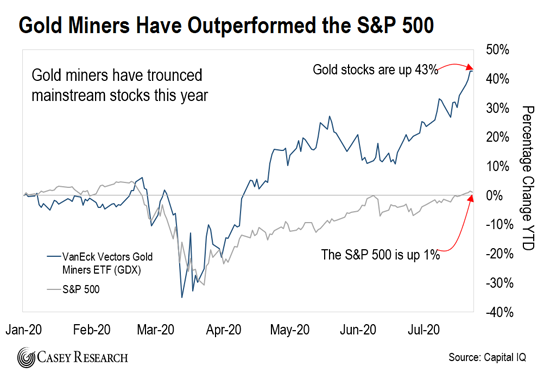 Now, looking at that chart, you might think that you've missed the boat on gold stocks. And mainstream stocks might still look attractively cheap in comparison, after barely recovering from the COVID-19 plunge in March.
But that's not exactly true. Below, I'll show you why gold stocks offer more bang for your buck than mainstream stocks… along with a method to play this sector as it soars higher…
The Importance of Leverage
As I wrote before, this gold bull market is just getting started. And gold stocks thrive during times like these – because of something called "leverage."
Leverage is the relationship between the price of gold and the share prices of gold miners. When gold moves an inch, these stocks can move a mile.
Take it from Casey Report chief analyst, Nick Giambruno. He's been helping his readers take advantage of this gold surge with miners. He recommended a gold miner in April and another one in May, and already, they're up 78% and 43%, respectively.
And Nick thinks this is still the early stages:
… This gold bull may turn out to be the biggest one in history. That would take it far above its previous peak of around $1,900 roughly a decade ago.

As those of us who invest in resource stocks know, gold stocks offer leverage to the gold price. That's the reason to own them. Even a minor increase in the price of gold can cause shares in these companies to skyrocket.
Let me give you an example of leverage. Say the price of gold rises from $1,300 to $1,400. That's roughly an 8% gain. If you own physical gold, you're up 8%.
Now, say it costs a mining company $1,250 per ounce to mine the gold. At a gold price of $1,300, the company has a potential profit of $50 on each ounce of gold.
However, if the price of gold rises only 8% to $1,400, the company's profits per ounce increase by 200% ($1,400 – $1,250 = $150 profit per ounce). That could push the company's stock higher by 40%, 50%, or more – all because of a small move in gold itself.
We're already seeing this play out. Remember, gold miners have outpaced gold's returns this year by nearly 20 percentage points.
But that doesn't mean gold stocks are finished. As the price of gold continues to rise, miners' value will rise along with it.
And there's another reason that now is still a good time to buy gold stocks…
The Value of Ratios
Even after their performance so far this year, gold stocks are still "cheap" buys compared to mainstream stocks.
But how do we know whether a stock is cheap or expensive?
Valuation ratios are a useful guide. They show how much "value" you get per unit of "price."
Now, we can use enterprise value (EV) to measure the value of the business. Without going into too much detail, EV is the price a buyer of a business would pay to buy it today. It factors in the company's cash and debt along with its market capitalization.
So that's the price part. To determine value, we want to look at how profitable a business is.
And there are a lot of ways to look at profitability. One useful metric is earnings before interest, tax, depreciation, and amortization (or EBITDA). Because it removes a number of other variables, EBITDA is useful for comparing companies in different industries.
If we combine these metrics into a ratio – EV/EBITDA – we'll be able to see a company's value compared to its profitability, and that gives us an idea of how much future upside a stock could potentially have.
A lower ratio suggests better value and more future upside, all else equal. A high ratio suggests that there could be less upside and more risk of loss ahead.
In other words, a low EV/EBITDA ratio gives you better odds of not losing your capital. The upside will take care of itself.
And you can use this ratio to compare stocks across different industries – such as gold stocks vs. the S&P 500.
Take a look at how they stack up compared to each other…
Gold stocks are about one-third cheaper than mainstream stocks. Their median EV/EBITDA is more than 30% lower than that of the median S&P 500 company. (We use medians as a way to avoid extremely high or low numbers that skew the data.)
Why is this important? Because a cheaper stock could deliver higher returns in the future. The more expensive a stock is, based on a metric like EV/EBITDA, the more likely it is that its future returns will be weak.
So think of this 30% difference as a relative advantage that gold stocks have over mainstream equities. It doesn't mean that you'll make 30% more on your gold stocks than you will if you invest in the S&P 500. But cheaper stocks give you an edge, and in this case, it's quite significant.
If you're looking to get some exposure to gold stocks, the VanEck Vectors Gold Miners ETF (GDX) is a great way to get started. The companies in it tend to be large and established, so they are less risky than their smaller counterparts.
And as always, make sure to position size appropriately, and never bet more than you can afford to lose.
Good investing,
Andrey Dashkov
Analyst, Casey Research