Bitcoin related stocks have been slowly grinding higher over the past few weeks.
This action has shifted the charts of many of these stocks from bearish to bullish.
And, that's good news for bitcoin bulls. Because, if the stocks do indeed discount the future price of bitcoin, then it looks like the King of Crypto could soon start to rally.
The last time we floated this theory – that the price of the stocks led the price of bitcoin – was in early May. Back then, bitcoin was trading near $60,000.
But, most of the bitcoin related stocks were falling hard. So, we figured bitcoin was likely headed lower as well.
Today, the King of Crypto changes hands for about $32,000. It's down nearly 50% in just two months. Yet, a lot of the bitcoin stocks have been moving higher.
Shares of Riot Blockchain (RIOT) – a bitcoin mining company – have rallied nearly 50% since early May.
Take a look at the chart…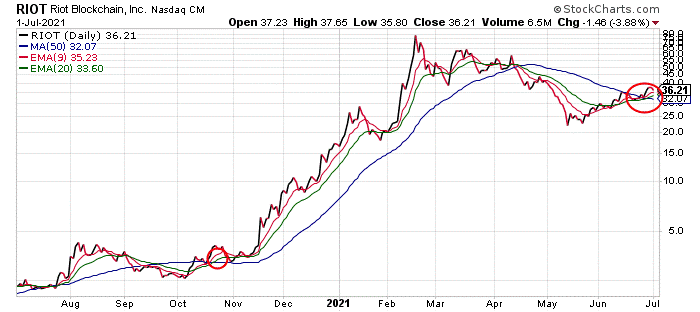 RIOT is now trading above all of its various moving average lines.
And, those moving averages have shifted into a bullish formation – with the red 9-day exponential moving average (EMA) above the green 20-day EMA, and the 20-day EMA above the blue 50-day moving average (MA). This setup often marks the start of an intermediate-term rally phase for a stock.
The last time the chart of RIOT showed a similar setup was last October – just before an enormous move higher.
This chart of MicroStrategy (MSTR) shows the same pattern…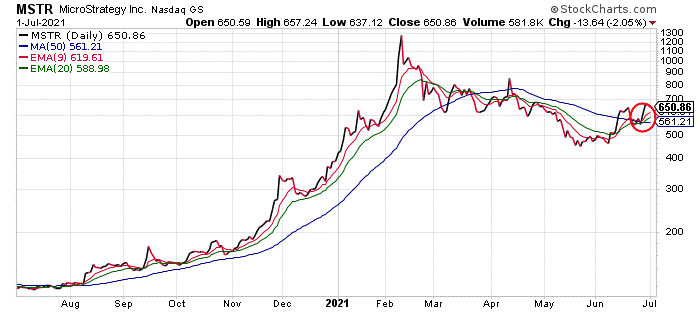 MSTR is an enterprise software company that has famously (or infamously) raised money by issuing bonds, and then plowed all of that money into bitcoin.
So, the stock trades as a proxy for the price of bitcoin. MSTR bottomed in mid-May near $450 per share. It closed yesterday at $650… That's a 45% gain in about six weeks.
And, here's the chart of Tesla (TSLA) – the electric vehicle manufacturer that makes more money owning bitcoin than by selling cars…
Similar to RIOT and MSTR, shares of TSLA have enjoyed a nice rally over the past six weeks. And, the moving averages on the chart have shifted into a bullish configuration.
This sort of bullish action in bitcoin stocks suggests that the price of bitcoin is more likely to be higher than lower over the next several weeks.
It's not a guarantee, of course. But, the bearish action in the stocks two months ago warned us of the potential for a steep decline in bitcoin… and that's what we got.
Now the bitcoin stocks are suggesting the King of Crypto is setting up for a rally.
Best regards and good trading,
Jeff Clark
Editor, Market Minute