Inflation seems to be front and center these days…
It's on the news, your Twitter feed, and maybe even in your conversations over dinner.
Right now, it's scaring everyone – investors and consumers alike.
There's also a growing sense that rising prices will continue, because the ones with the most power to affect change, aren't so worried…
Both the government and the Fed are showing no signs that they understand what's happening or let alone care enough to set policy that'll help.
That's because setting policy to rein in inflation would exchange short-term growth for future growth… and doing so would mean forgoing their short-term political points.
But inflation is now a global problem… and it's all interconnected.
However, investors can get ahead of this trend and take matters into their own hands.
One of the best ways to do that is to be positioned at the epicenter of the inflation trade – the commodity sector.
But the problem is commodities move fast, and when most people think about commodities, their go-to is either gold or energy.
Gold had a noticeable breakout this month, something Jeff Clark has been pounding the table on… at a time when it wasn't popular to do so. His latest piece on gold gives a great framework on what to look for in the short term… as well as long term.
Another area within the commodity sector that looks primed for a breakout is the fertilizer and agricultural chemicals space.
We here at Market Minute showcased a similar sector a few months back, recommending TiO2 producers like Tronox Holdings (TROX). These companies produce chemicals for things like paint and industrial dyes.
TiO2 is not sexy, but since then, TROX is up 40%.
And now, this chart of fertilizer prices has me thinking that the stocks within this space are positioned for some outsized gains as well…
This fertilizer price index consists of things like urea, potash, and nitrogen. Like I said, these aren't sexy commodities. Yet, fertilizer prices have nearly tripled this year…
So, when people look around and see the prices of coffee and wheat more than doubling since last year, it shouldn't come as a surprise – nothing grows without fertilizer.
Typically, investors interested in this space may want to get broad exposure to ETFs like VanEck Agribusiness (MOO) or iShares MSCI Global Agriculture Producers (VEGI).
But that's a sub-optimal way of getting exposure to this particular trend. That's because these ETFs hold a portfolio of stocks in the broader agri-business sector and diversify away the outsized gains available from buying shares in the fertilizer producers themselves…
Right now, the companies I like most in the fertilizer and agricultural chemical space are ScottsMiracle-Gro (SMG), Corteva (CTVA), and FMC Corp. (FMC).
FMC in particular has a very bullish chart structure and may have the most value right now… Especially since it was actually down 19% YTD until November 1.
But its latest earnings report may have reversed investor sentiment… and set up a floor for price levels.
Take a look at this chart of analysts' upper and lower price targets for FMC…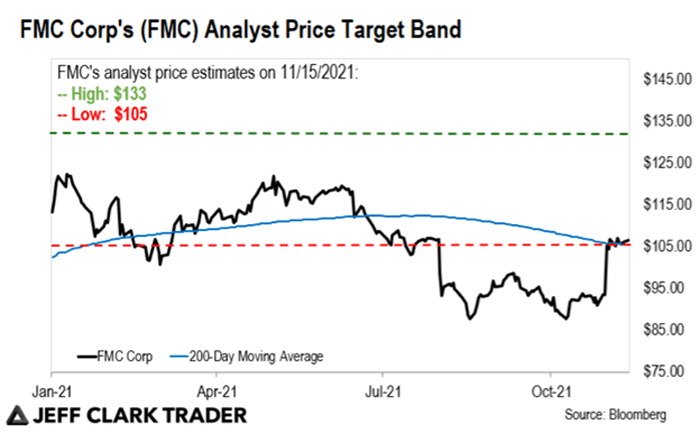 First, it shows FMC has retaken its 200-day moving average (MA) after its latest earnings report and hasn't given up any gains. That's encouraging because stocks tend to pull back from bullish earnings reports – at least a little.
Secondly, the most bearish analyst estimates have FMC trading at $105 per share. It's currently right at the bottom of that range and poised to break higher.
Given these developments, I fully expect this stock to trade above $125 within the next 12 months.
Regards,
Eric Shamilov
Analyst, Market Minute