In late October, I attended the MJBizCon conference in Las Vegas. It's the marquee event of the year for the legal cannabis industry.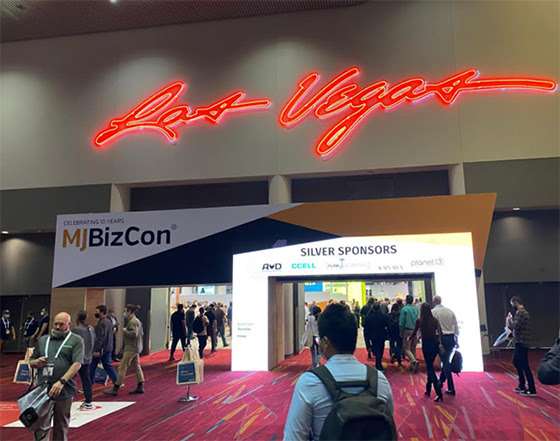 The scope of the conference is massive. Over 35,000 people attended to see 1,300 exhibitors and 130 speakers from around the world.
This was the first in-person conference in two years, and it was clear the cannabis business professionals and leaders were excited to be back.
I've attended MJBizCon since 2019, and I've never seen this level of engagement… number of people… or deal-making happening in every nook and cranny.
It was a whirlwind three days of activity. And here's my key takeaway: One of the megatrends we've been tracking for two years – the legal cannabis industry – is roaring back despite negative investor sentiment.
Sure, after a blistering start to the year, the cannabis sector has cooled off a bit. But overall, the trajectory is toward even more mainstream adoption.
Here's one example that illustrates this…
Smashing Records in 2021
This year's keynote speaker was Daymond John of Shark Tank fame and founder of multimillion-dollar apparel company FUBU.
MJBizCon had tried to get him to give the keynote address in previous years, but he didn't think the timing was right.
Today, there's less stigma attached to the industry than ever, and he agreed to speak.
Now, there's still a lot of volatility in the sector. The benchmark Horizons Marijuana Life Sciences Index ETF (HMLSF) is down 20% on the year.
But here's the thing… I didn't hear a single executive speak about negative investor sentiment throughout my time at the conference.
This may sound strange on the surface, but it's not when you dig deeper… Because it proves the underlying fundamentals have never been stronger.
Even amid a patchwork of lockdown mandates, supply shortages, and lack of regulatory clarity from the folks on Capitol Hill, the cannabis sector is smashing records in 2021.
This year, the industry is estimated to bring in $27.6 billion in sales. That's a 27% bump from last year… And 2x sales in 2019 – when we first started recommending legal cannabis companies.
States are seeing record sales. Even newly legalized states like Nevada have breached the coveted $1 billion in sales this year.
That's because politicians and regulators learned from trailblazers like California, Oregon, and Colorado. And now, they've implemented roadmaps to legalize use.
That's great because we could see another slew of states legalize cannabis in 2022. Ohio, Missouri, South Dakota, Oklahoma, North Dakota, Maryland, and Arkansas have legalization initiatives underway.
And they'd join the 18 states that have fully legalized. Altogether, 37 states have permitted medical or adult use, and more than two-thirds of Americans now live in a state with some form of legalization.
With all these individual states leaning toward legalization, we expect the federal government will start to view it in a different light, too.
Even internationally, we've seen significant milestones.
Mexico decriminalized recreational use of cannabis last June, becoming America's second neighbor to do so… Colombia gave producers the green light to export internationally in July… and Costa Rica could legalize medical marijuana any moment now.
Meanwhile, Luxembourg was the first recreational cannabis domino to fall in Europe – but surely won't be the last as it follows a trajectory similar to the U.S. a few years ago – with one country serving as a domino for those around it.
Cannabis legalization is an undeniable trend. Local and national governments are no longer afraid of repercussions from ending prohibition. The bell has been rung. And our fundamental investment thesis remains the same.
But even with so much momentum, as I mentioned, the cannabis sector is down 20% on the year. We know this can be frustrating… but this is a similar playbook to a different trend we've seen before.
And just like with that trend, by keeping our eyes on the big picture and seeing the opportunity for what it represents long term, we can set ourselves up for big gains.
Cannabis Is About to Have Its Crypto Moment
As long time Palm Beach Research Group readers know, the parallel we're talking about is in cryptos. Bitcoin, the "gateway drug" to the rest of the crypto market, had a bumpy road this year.
But it picked up steam early on, rallying through the year until it peaked at $63,821 in April. That was more than 3x its high of roughly $20,000 in December 2017.
We heard rumblings from many who wished they'd backed up the truck when bitcoin was $20,000… $30,000… or even $40,000.
And fate gave them a second chance. By June, bitcoin bottomed at $29,360.
But how many of those people put their money where their mouth was? And how many gave up… convinced the ship had sailed and the opportunity no longer existed?
Look, it's never easy to stay optimistic when the price chart is moving against you. But if it were easy, everyone would be rich.
Our secret to success at PBRG is to stay focused on the overall trend. With bitcoin, we remained focused on mass adoption by average investors, institutions, and Wall Street.
That's why we've ignored the naysayers, the tweets, and the noise, and stayed the course… And we're being rewarded. Bitcoin hit a new all-time high around $66,974 – and the trend shows no signs of slowing.
We must keep that same perspective with the cannabis industry. Every state, territory, and nation that legalizes opens the door to millions of customers… and billions in sales.
If you want to take advantage of this trend, consider a stake in HMLSF. It contains over 25 of the top cannabis companies, and it will continue to rise as this market recovers.
Just like crypto before it, cannabis is moving from a fringe idea to mainstream acceptance… this may be your last chance to get in before billions of institutional dollars pour into the sector.
Invest wisely!
William Mikula
Analyst, Palm Beach Daily