Some say that the market is hard to beat… Well, that's true in general.
But here at Casey Research, we look outside the mainstream for investing ideas.
It's one of the cornerstones of our investing philosophy at Casey Research. We're also contrarians. That's why gains like the one I'm about to share with you are possible – and even routine – for us.
Back when I started writing about the massive megatrend that is ESG (environmental, social, and governance) investing, I had been shot down several times…
But what is more contrarian than going against your editor?
In any case, as the world continues to wake up to ESG investing… I'll keep sharing the best opportunities to profit that I see on my radar.
And as I'll show you later, you could have seen triple-digit gains just by following my advice in the Dispatch…
If this is your first time reading the Dispatch, welcome. If you've been here before, welcome back.
I'm Andrey Dashkov, and I've been a Casey Research analyst for over 11 years. I've worked under great newsletter editors… Incredible investing minds like Nick Giambruno… Louis James… Doug Casey… and Dave Forest have all helped shape my writing and thinking.
I've learned a lot over the years – including how to make huge gains from smart speculations…
Now, I'm sharing what I've picked up with you.
It Started a Year-and-a-Half Ago…
In June 2020, I wrote one of my first pieces on ESG.
What I said back then is still true…
More and more traders are falling head over heels for companies that follow "environmental, social, and governance" (ESG) guidelines.

These companies develop sustainable technologies and govern themselves by higher environmental and community standards than the average stock.

Take clothes companies Hanesbrands and Nike. Both try to limit water usage, reduce waste, and manage their supply chains in a local, community-friendly way.
This trend has held true in 2021. Capital inflows into ESG ETFs have been soaring.
For example, the iShares MSCI USA ESG Select ETF (SUSA) saw a 21x increase of inflows between 2017 and 2021.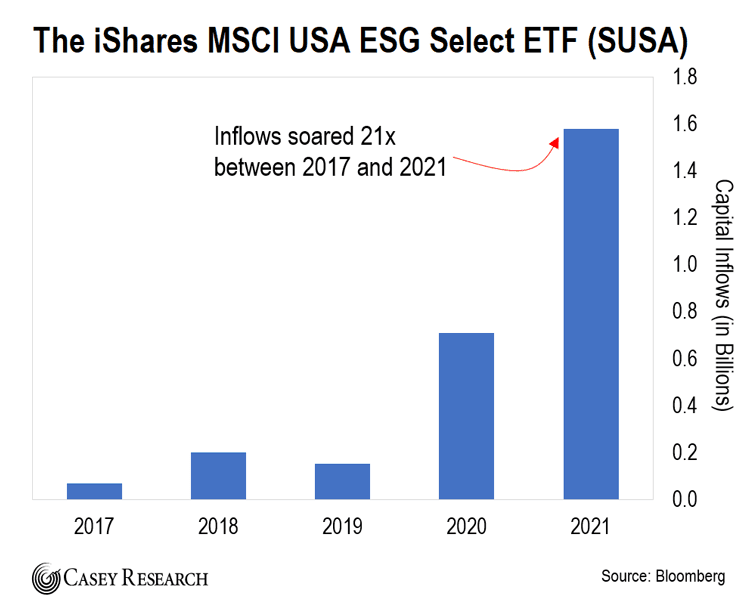 But the best part is… money keeps flowing into ESG. That means, this chart could look quite meek in the months and years ahead as tens, if not hundreds, of billions of dollars more flow into sustainable ETFs.
The same holds true for performance. I believe this megatrend is in its early stages. There's a lot of growth ahead.
Apple's CEO: This is "The next big thing"
So far, I'm happy with how this trend has been unfolding.
In June 2020, I mentioned the Global X Lithium & Battery Tech ETF (LIT).
So far, it has delivered a stellar performance. Between the date my note was published and today, it is up about 180%.
The S&P 500 Index is up only 50% over the same period.
The lithium ETF has handily outperformed the popular market index.
In other words, the ESG theme has been working out great for us.
What's Next?
In 2022, I expect the ESG theme to gain momentum in the U.S. due to a few catalysts…
The government's climate agenda is a positive for ESG. For example, it wants to speed up its "net zero" strategy. The goal is to bring greenhouse gas emissions to "net zero" so that any remaining emissions are offset by carbon credits or other schemes and eliminate as many emissions as possible.
The plan includes increasing the government's electric vehicle fleet and upgrading government-owned or leased buildings. This measure alone will have $650 billion dedicated to it.
A national electric vehicle charging station is a $7.5 billion project in the making. This, too, will benefit both the people who have access to charging stations and the companies that will be involved in helping the buildout.
There are more projects like this… and the sums of money run in the hundreds of billions, potentially trillions.
Therefore, you can't miss this trend. And I will continue covering it for you in the future.
There's a lot going on in the world of sustainable investing. It will bring unprecedented investment opportunities for those who get in on it early.
Despite its run since June 2020, I still believe that the Global X Lithium & Battery Tech ETF (LIT) is a good way to get exposure to what I believe will be the most important trend of the coming decades.
In the meantime, I hope you enjoy your time with friends and family this holiday season.
Thank you for being a Casey Research subscriber, and happy holidays!
Good investing,
Andrey Dashkov
Analyst, Casey Research