If you've been following along in these pages, you know I regularly sing the praises of owning gold and gold stocks – especially during times like these.
And gold's backed me up. Since the current market sell-off bottomed in mid-March, the metal's up 16%.
But you're limiting yourself if you only focus on gold. In fact, there's one other metal that you should consider adding to your portfolio today.
I believe copper could be one of the biggest stories in commodities in 2020 and 2021.
Now, it's important to point out that copper has been one of the biggest victims of the coronavirus panic. As the chart below shows, copper has plunged as much as 25% through February and March.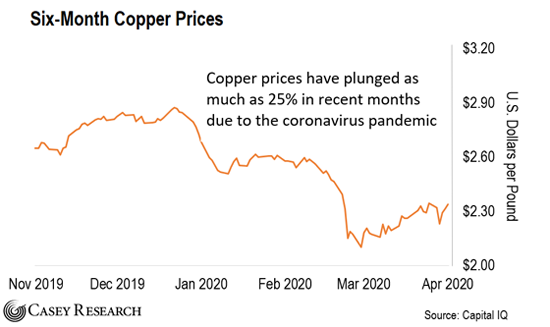 But the critical point is that this global shutdown dragging copper down is only temporary. Copper and copper companies are selling cheap, but the underlying fundamentals remain intact. That means a buying opportunity… especially in light of recent events, which suggest the copper bull market is getting closer.
I predicted this bull market was coming back at the start of 2020. Let me explain…
Before the Virus
Before the pandemic and this global shutdown, my sources in the mining industry were telling me that the world's largest buyers of copper metal were absolutely terrified of a coming supply shortage.
One CEO of a junior copper company told me he'd been cold-called by a Japanese copper smelting firm (one of the largest in the world) that wanted to know about investing in my contact's exploration projects.
Meanwhile, the head of copper research for a major investment bank told me Asian smelters were paying top dollar – up to three times market value – for stakes in copper mines.
This is extremely unusual behavior from smelters. Remember, a smelter is a factory that takes in raw copper produced at mines, then melts it at high temperature to form ultra-pure copper used to make wiring and other industrial components.
Copper smelters generally only invest in advanced projects, usually operating mines. The fact that such copper smelters were looking at exploration projects shows they were desperate for supply – before this pandemic happened.
Since then, a good chunk of the world's copper mining production has shut down due to COVID-19 restrictions (more on that in a moment). There are concerns this could dent demand. But the data shows it would be a mistake to bet against copper.
Remember, the majority of the world's copper demand comes from Asia. There, many countries are already emerging from COVID-19 shutdowns. China's copper imports jumped 13% in March. Reports suggest Chinese smelters are having trouble finding enough copper supply.
That fits with the intel I'm hearing. When supply gets tight, smelters often try to control mines directly – so they can make sure the copper production gets steered to their furnaces. Otherwise, they have to buy the feed on the open market, in competition with all the other copper-hungry competitors.
At the time, I was hearing this as whispers from industry insiders. But recently, the story went primetime.
Japanese mega-conglomerate Mitsubishi recently announced it's paying $263 million for a 30% stake in the Mantoverde copper mine in Chile.
And here's another big signal for copper: Just a few months ago, the world's largest public gold mining company, Barrick Gold, said it wants to get into the red metal.
Barrick's CEO Mark Bristow said in early February the company is aggressively seeking copper acquisitions. Insiders were reporting it may bid for the Grasberg mine in Indonesia.
Remember, these are mining insiders. They pay millions yearly for detailed analyses of the metals markets. All of them are seeing something big coming in copper, and they're moving to get positioned.
I believe the current copper sell-off gives us a perfect time to join them.
Pandemic Woes
Of course, there's no denying that the COVID-19 crisis and the resulting economic shutdown have affected metals prices, especially copper.
Take China, for example. It's by far the largest consumer of copper in the world. More than half of Chinese copper usage goes to feed the country's exploding electricity grids and construction sector.
But some ports in China have closed to copper imports to prevent the spread of the virus. That's temporarily reducing demand.
The supply side is affected as well. Both Chile and Peru, two of the top copper-producing nations in the world, began closing copper mines earlier this month. Some mines are also using COVID-19 as an excuse to shut down in order to wait for a recovery in copper prices.
Overall, global disruptions to copper supply are running just over 20%. You can see this in the graphic below. The black numbers represent a country's share of global copper production. The red numbers show the percentage reduction in national output due to COVID-19 shutdowns.
The next few weeks will be very revealing for copper.
If 20% of global production continues to stay offline, it will be supportive for prices. And if copper prices start rising, I suspect we'll see more operations emerge from hiatus.
So now's the time to act. Buying on dips like the current coronavirus scare is attractive. When stock prices drop for no fundamental reason, it's usually a setup for a substantial and relatively rapid rebound.
That's very likely coming for today's sold-off copper stocks. Even better, the current dip in share prices comes just as fundamentals in copper are turning extremely bullish.
Otherwise… watch for the virus slowdown and pick copper stocks. If you're looking for some broad exposure, the Global X Copper Miners ETF (COPX) is a simple one-stop solution. The fund includes top copper miners and will follow their share prices as copper gains momentum.
Keep walking the path,
Dave Forest
Editor, International Speculator