Right now, the cannabis industry in the U.S. is booming.
Over the past 12 months, the AdvisorShares Pure U.S. Cannabis exchange-traded fund (MSOS) is up 67%.
Tilray, one of the largest stocks in the cannabis industry by market capitalization, is up 63%.
That's pretty good. But I believe the rest of 2021 could be even better for cannabis.
That's because the industry is expected to grow to over $30 billion in just a few years.
And a couple of recent developments are creating a bullish setup…
If this is your first time reading the Dispatch, welcome. If you've been here before, welcome back.
We have two goals here:
To introduce you to the most important investing themes of the day, and
To show you how to profit from them.
We do this by showcasing ideas from our in-house investing experts: Dave Forest, Nick Giambruno, and the founder of our business, Doug Casey.
Today, we're turning to a trend that Casey Research chief analyst Nick Giambruno has been pounding the table on for three years. And in that time, his readers have made 111%… 271%… and even as much as 1,020%.
But I believe there's more upside ahead – and that this industry has the potential to become one of the leading wealth creators this year.
The Legal Cannabis Market Is Booming
Cannabis isn't legal at the federal level in the U.S. – yet.
But that could be about to change.
Just before Memorial Day weekend, U.S. House Judiciary Chair Jerry Nadler re-introduced the Marijuana Opportunity Reinvestment and Expungement (MORE) Act in Congress.
If that bill passes, it would legalize cannabis at the federal level.
If that happens, it'll light a match under the cannabis market.
But even if it doesn't, momentum is growing. Sixty percent of U.S. adults believe that cannabis should be legalized for both medical and recreational use.
Right now, marijuana in some form is legal in 48 states. It's fully legal in 15 – and counting. This year, New York, New Mexico, and Minnesota could fully legalize cannabis, too.
So even if the MORE Act doesn't pass right away, the list of states where cannabis is legal – fully or partially – is growing. And as that list grows, so do sales.
2020 Was Historic for Sales – But That's Just a Start
In 2020, cannabis sales in the U.S. soared by 67% to about $18 billion.
Even the summer of 2020, highlighted by lockdowns, was good for the industry. People shopped less, but their orders were larger, and that kept sales growth intact.
And this trend is going to continue. Estimates show that sales will likely almost double between now and 2024.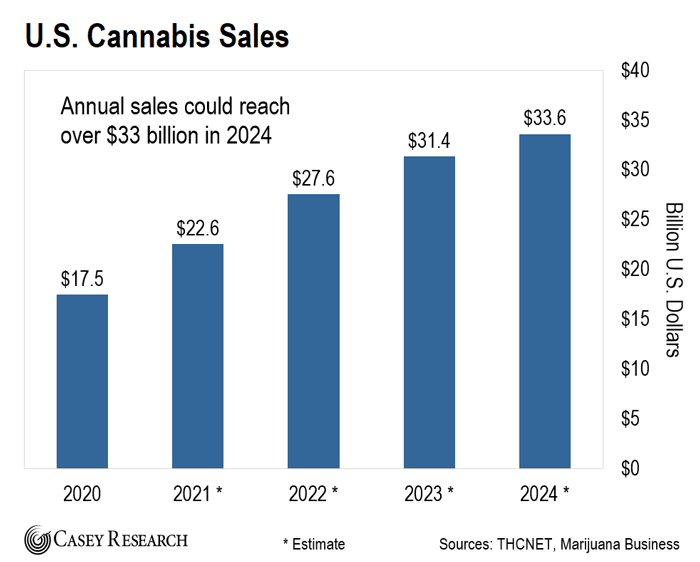 Adding more fuel to the fire, just recently, Amazon announced that it supports federal legalization. It also said that it would not conduct cannabis tests on its workers (unless it's explicitly required by law, as is the case with some of its drivers).
This is exactly what Nick predicted when he first brought the cannabis trend to his readers in 2018. Here's what he told them exactly one year ago…
When you consider the enormous medical, recreational, industrial, therapeutic, and accessory markets for cannabis, I think the implications are clear.

We're talking about the emergence of a new global market that will easily be larger than alcohol and tobacco. It could even become larger than the soft drinks industry.

Legal cannabis will create countless new categories of products. Their combined markets will easily be worth hundreds of billions of dollars in the years ahead.
Nick is right. Cannabis is in a long-term bull market…
There Are Still Fortunes to Be Made in This Space
Nick's helped his readers lock in gains like 111% on a cannabis distributor… and that 1,020% return I mentioned above from Innovative Industrial Properties (IIPR)… a real estate investment trust that leases property for cannabis production.
And right now, one of his other cannabis picks is up 271%.
That's why I think the cannabis market should be on every investor's radar right now. Sure, it's less speculative than it was a few years ago… but it's no less exciting.
And unlike those early years of the cannabis trend, there's more to these stocks than hype alone. There's fundamental growth in the space.
For example, on average, the sales of 10 of the largest cannabis companies – including GrowGeneration and Curaleaf Holdings – have doubled over the past year alone.
Here's the bottom line. The cannabis market is growing. Federal legalization in the U.S. is widely supported. Plus, states are continuing to pass their own legislation.
This is a great setup.
To profit from the broad movements in this market, consider an exchange-traded fund (ETF) like AdvisorShares Pure U.S. Cannabis ETF (MSOS).
It holds U.S.-focused cannabis companies that stand to benefit from federal legalization and other positive developments throughout the U.S.
Good investing,
Andrey Dashkov
Analyst, Casey Research