It's time to bet against oil.
That sounds crazy… I know. After all, the economy is opening back up. People are traveling again. Demand for energy is skyrocketing.
Heck, I made that bullish argument a few weeks ago when I warned that the price of oil was headed higher into Memorial Day. Here we are, just over one month later, and oil is up almost 10%.
The price of the gooey black stuff traded around $67.50 per barrel on Friday. That's its highest price in two years. And, lots of folks think oil is headed to $70 per barrel by the end of summer.
They're probably right.
But, for the next couple of weeks, oil is set to fall. Let me explain…
It's summertime. And, in summertime we are treated to three national holidays: Memorial Day, Independence Day, and Labor Day. The price of oil tends to rally going into those holidays. Then, it falls immediately afterwards.
Of course, that didn't happen last year. The COVID-19 lockdowns interrupted oil's traditional pattern. But, look at this chart of oil during the summer of 2019…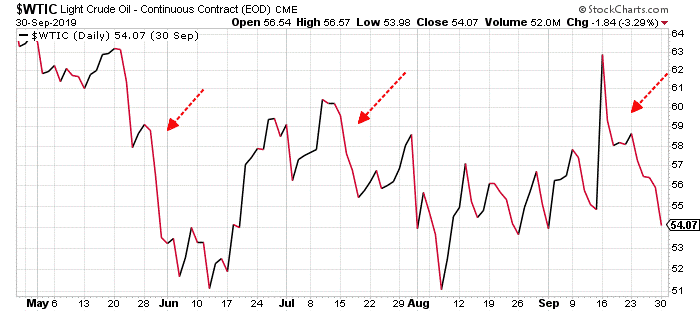 You can see how the price of oil sold off following each of the major holiday weekends (as demonstrated by the red arrows).
Here's the chart from 2018…
Just like in 2019, oil rallied going into all three of the summertime holidays – then it fell right afterwards.
This is a fairly consistent pattern. And, it's one I expect will play out this year.
If you bought oil last month in anticipation of a pre-Memorial Day rally, then congratulations. You're up about 10% on the trade – which is an outstanding gain for one month. Now though, it's time to take the profits.
Aggressive traders might even consider betting on oil falling over the next couple of weeks. That should work out well if the traditional post-holiday decline occurs this year.
But, don't stay too long in the trade… Independence Day is right around the corner.
Best regards and good trading,
Jeff Clark
Editor, Market Minute